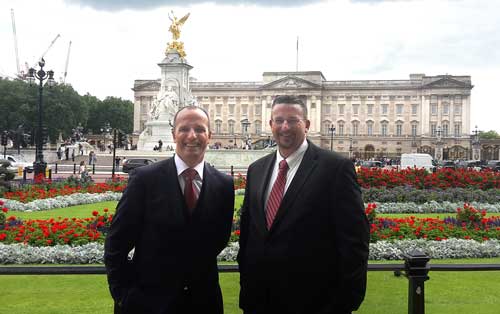 Hummingbird Sensing Technology, the leading manufacturer of gas sensing technologies for medical and industrial markets, is today delighted to announce that it is has been awarded the 2016 Queen's Award for Enterprise – the UK's highest accolade for business success.
Announced on Her Majesty The Queen's 90th birthday, the award recognizes the outstanding achievement by a UK business for commercial success as a result of innovation. A division of Servomex, the world leader in gas analysis (part of the Spectris Group plc), Hummingbird received the award to recognize innovation in the design and manufacture of Paramagnetic oxygen sensors for medical and industrial applications. Awards are only given for the highest levels of excellence demonstrated in each category.'[A short Technical Center video shows the sensors being made].
Chuck Hurley, President, Servomex Group Limited, said: 'As worldwide leaders in innovation for gas sensing technologies, we are extremely proud that our continued work in this field has been recognized through this prestigious award. This has been achieved by constantly pushing boundaries of research and design, continuing to challenge and improve on traditional technologies, whilst developing new sensors for unparalleled measurement, accuracy and stability.'
For more than thirty years, Hummingbird has developed world-leading sensing technologies that redefine gas sensor performance. Used globally in the most demanding medical and industrial applications, Hummingbird's leading-edge sensing technologies deliver exceptionally accurate measurement performance.
Hummingbird's entry into The Queens Awards for Enterprise focused on innovation behind its world-leading Paramagnetic oxygen sensor. Renowned for widespread use in Servomex's gas analysis products, the Paramagnetic sensor range is also used by world leading medical equipment manufacturers in life support devices that require oxygen regulation, monitoring and delivery, such as Anesthesia Workstations, Critical Care Ventilators and Neonatal Incubators. The sensor is also used in a range of industrial analysis processes, including measurements for gas purity, oxygen detection for life safety, and in Continuous Emissions Monitoring (CEMS) systems that ensure legislative requirements on emissions reductions are met.
The individual, patented design of Hummingbird's oxygen sensors exploits the unique property of oxygen to be strongly attracted to a magnetic field by using a torsion dumbbell system (the positioning of two nitrogen filled glass spheres mounted on a strong, noble metal taut-band suspension within a strong magnetic field gradient): the more oxygen present, the further the glass spheres are pushed from the magnetic field. The result is a highly sensitive sensor which provides the most accurate readings available, in a format that both meets international legislation and is RoHS II compliant.